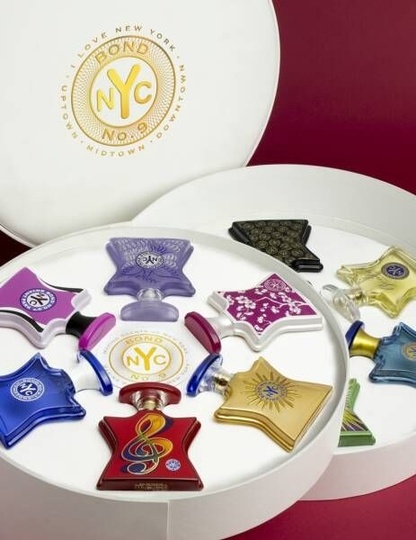 If you really need to spend money you can direct your steps to Bond No.9 because they have a few offerings to help you do that and a promotional code on all orders (see end of post). For people who love to sample at leisure, there is the I Love New York double-decker sampler which includes a dozen 50 ml bottles of perfumes you get to pick, we hope,
"The I Love New York Double-Decker Sampler Box
Downtown Eaux de parfum (50ml flacons), arrayed in a

lush white keepsake box

(with the Bond No. 9 logo debossed on the top) that captures the

emerging new minimalist luxury

trend to a t. This year's

definitive holiday gift

– if you can bear to part with it. $1600".....
There is also a particularly well decorated bottle of The Scent of Peace to help promote the spirit of the holidays,
The Scent of Peace Takes Sparkling Flight
Our most stellar perfume (grapefruit…black currant … lily of the valley), in a limited – edition Flacon whose dove-in-flight design is traced in Amethyst, white, and opalescent swarovski crystals.

A uniquely shimmering statement of the longing For peace

. $470